IBM WebSphere® Application Server (WAS)
Accelerate application delivery with a highly reliable, secure and flexible Java™ Enterprise Edition (Java EE)-based runtime environment. Version 9.0.5 — which also applies to WAS Network Deployment, WAS Server Family Edition and WAS Liberty Cor — features new components to help you modernize at your own pace, gain greater visibility across workloads, analyze enterprise applications, and advance your journey to Kubernetes.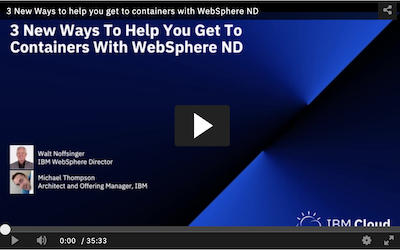 Get ready for containers with Application Navigator and Kubernetes based services
Application Navigator integrated dashboard, provides you a single pane of glass, where you can now gain visibility into all of your WebSphere applications irrespective of where or how they are deployed – in containers, traditional WAS cells, or Liberty collectives.
Copyright © 2020. All rights reserved.
IBM, the IBM logo, ibm.com, and the IBM Business Partner Emblem are trademarks or registered trademarks of International Business Machines Corporation in the United States, other countries, or both. A current list of IBM trademarks is available on the Web at "Copyright and trademark information" at www.ibm.com/legal/copytrade.shtml. Other company, product and service names may be trademarks or service marks of others. The IBM product and/or services described herein are provided by an IBM Business Partner who is an independent reseller/dealer. The fulfillment of any conditions or offers described herein are the sole responsibility of the IBM Business Partner. IBM is not responsible for the actions or performance of IBM Business Partners. IBM Business Partner special offers, products and prices may be withdrawn or modified at any time without prior notice.